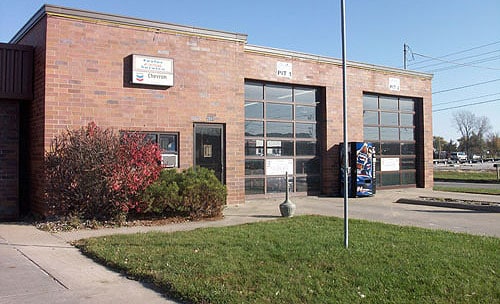 Located by Tony's Turbo Wash, Fesler Express is your quick and thorough alternative to our Service Department.
Fesler Express offers oil changes complete with our 27 point vehicle inspection, transmission flushes, power steering flushes, differential flushes, coolant flushes, and transfer case flushes.
Our 27 Point Vehicle Inspection includes:
Inspection & operation of all lights and lenses, condition of wiper blades, horn operation, checking micro filter interval (as applicable), condition of throttle intake system, condition of radiator and coolant, condition of transmission fluid, condition of power steering fluid, condition of drive belts, condition of hoses, brake hydraulic system fluid, air conditioning output, condition of battery terminals, condition of fuel filter, condition of air filter, windshield washer fluid level, condition of steering linkage and gear, condition of front struts/shocks, alignment and tire condition and wear, condition of front brakes and hoses (at tire rotation interval), C/V boots and shafts, check for engine oil leaks, check for transmission oil leaks, condition of exhaust system, condition of differential fluid, condition of rear struts/shocks, and condition of rear brakes (at tire rotation interval).
Fesler Express Staff